About
Fact vs fiction
We must separate fact from fiction when talking about faster wound healing. Although you may have heard people associating saltwater with healing, it actually has the opposite effect. Moisture causes the skin around the wound to swell this, in turn, complicates the healing process. It not only affects healing but also gives an entryway for bacteria to enter the wound, thereby increasing the risk of infection.
Waterproofing is the answer
No matter where you find yourself, whether you are at the beach, doing the dishes or going for a swim, keep your wounds protected at all times. You can do this by using waterproof bandages that stay securely in place – even during prolonged contact with water. They should form an unbreachable barrier between the water and your wound, keeping it safe from bacteria and other irritants. Pick a breathable and flexible waterproof plaster that doesn't restrict your mobility.
Understanding the risk
Different types of water, such as saltwater, pool water or tap water, come with their own particular risk to wound treatment. Here are some of the water-related risks that people are most frequently exposed to and the potential dangers they possess.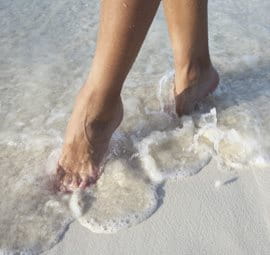 The healing powers of saltwater are primarily a myth.
Salt water
A lot of people say that seawater boosts the wound treatment process – but is that really true? In reality, there are a lot of impurities present in the water in coastal areas and in stagnant bodies of water. They tend to contain high concentrations of germs that multiply rapidly at warm temperatures. The risk of wound infection increases when you come in contact with contaminated water, which is why the healing powers of saltwater are primarily a myth.
It's also important to protect wounds against tap water.
Tap water
Even though tap water is generally cleaner, it is advisable to protect your wound from prolonged direct contact with tap water. This is especially important when the wound is still fresh and just beginning to heal. Water and moisture is one factor that can cause the skin to swell, in turn, this impairs wound healing. Hand soap, shampoo, shower gel and detergent can also further irritate the wound. Before showering or bathing, make sure to use a waterproof bandage to completely cover the wound. If the wound stays dry, there will be minimal interruptions in the healing process.
Wounds need also to be protected against chlorinated water, it can also slow the healing process, and bacteria in public pools can infect wounds.
Chlorinated water
There are many invisible dangers at public swimming pools, such as the bacteria that loom in unsanitary water and heavy chlorination. If bacteria comes in contact with an open wound it can get infected, likewise, chlorine in water causes unnecessary irritation and slows down the wound treatment process. Always remember to take special care when you're going to be in contact with chlorinated water or at a public swimming pool. Carry waterproof bandages with you in your swim bag to stay on the safe side.